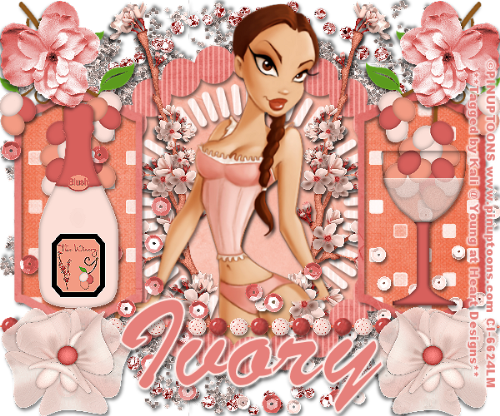 To do this tutorial you must have some knowledge of PSP and Animation Shop.
This Tag was made using PSPX2 and Animation Shop. This tutorial is also copyrighted by Young at Heart Designs.
Im using the Beautiful work of Pinup Toons. If you wish to use his work you must have a license to use his work before using his tubes.
To purchase his tubes, images and receive a license go to
HERE
.
The adorbale kit I used is called "Blush" by Ivory's Designz at Scrap Heaven Boutique and it can be found
HER
E
.
Supplies I used:
Tag Template #10 by Lacarolita's Designz:
HERE
Font: Brush Script Std
I used shadow settings V3,H2, O50, B5, Color Black on ALL elements, layers, text and the tube except for the mask layer.
I also sharpened every element and image I had to re size to get the quality like the original size.
1 Open template and delete the copyright layer.
2 Click on raster 1 and open, copy and paste your choice of paper.
3 Resize to canvas size and click on raster 1 again.
4 Go to Selections>Select All>Float>Defloat.
5 Click on your newly added paper layer and go to Selections>Invert and hit delete on your keyboard.
6 Delete the original raster 1 layer.
7 Repeat Steps #: 2-6 for all included layers in the template.
8 Open, copy and paste as a new layer your choice of tube.
9 Resize and position where desired.
Use my example for reference.
10 Duplicate your tube and move the duplicated tube below the frame.
11 Get your eraser tool and erase any of the both tubes that are sticking out paste the bottom part of the frame.
12 Open, copy and paste as new layers the ID_blush_elements_glitterframe1 and ID_blush_elements_glitterspray2 from the kit.
13 Resize and postion these right above the background layer.
14 Open, copy and paste as new layers the ID_blush_elements_bottle and the ID_blish_elements_glass from the kit.
15 Resize and position where desired.
16 Open, copy and paste as new layers your choice of elements from the kit.
17 Resize and position where desired.
18 Get your text tool and font of choice and type out desired wording.
19 Add copyrights.
20 Delete the background layer if you choose.
21 Resize and save as png.
You are all done!!!
Thanks,
Kali