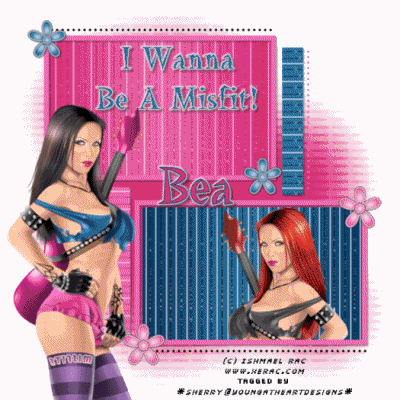 This tutorial was written by me on June 16, 2009, any similarities is purely coincidental. You must have a basic knowledge of Paint shop pro and Animation shop to do this tutorial.
I'm using the beautiful work of Ishmael Rac you must have a license to use his tubes, you can get
them
Here
For his newest tubes or for older ones
Here
This particular tube cannot be purchased it was a free tube I obtained from being in a yahoo group called Creative Misfits
that hes a member of Also. Thanks Ishmael for this free gift!
The scrap kit is a PTU kit Called So Sweet from Bea Creations you can Purchase her kit
Here
The font im using is called La Bamba You can get it
Here
The Template im using was made by Missy template 229 you can get it
Here
The Mask Im using is Omask 46 you can get it in my supplies
Here
This Tag is just a guide and you can use any kit or tubes you wish and still have a cute Tag!
Ok Lets go!
Open template in psp, copy and close original.
delete the copyrights.
Click on frame 1 background in layer pallet, select all~float~defloat~open paper of choice, resize 50 % and paste
as a new layer~selections~invert~ hit delete on keyboard~selections , select none.
Repeat with frame 2 background.
delete the template originals of both.
rename the new layers background 1 and background 2
click on thin rectangle 1 in layer pallet~select all~ float~defloat~ open paper of choice
and resize 50% then copy and paste as a new layer~invert~ hit delete on keyboard~
selections~select none.
Repeat with Thin rectangle 2 then delete the original templates for both.
click on background 1 again and open tube up in psp, copy and paste it as a new layer, position
on the background layer with just the head showing~ invert~ hit delete on keyboard~ selections~select none~lower the opacity to 85%
Repeat for background 2 mirroring the tube this time.
Name these two layers tube 1 and tube 2
Open main tube up and position where desired.
Add elements of choice where desired.
On the frame 1 and frame 2 layer add drop shadows to each.
Add drop shadows to tubes and elements.
For text open new canvas up in psp
write out whatever text you wish , change to raster layer
add a gradient glow and drop shadow. Copy and paste this on the Background 1 and position it where desired, name this text 1 layer
Repeat this changing to alternate text for background 2. Name this text 2 layer
click on bottom layer~ add a new raster layer~ copy and paste paper of choice or color of choice on this layer
Open mask and minimize it
go to layers ~new mask layer~ from image ~ find the mask from the drop down menu
make sure source luminance is checked and click ok.
Merge this group together.
resize canvas layer to 525x525
Add name and copyrights.
If you want to animate this
close of tube 1 and text 2 ~edit~copy special~copy merge~
take to animation shop and paste as a new layer
back to psp
open tube 1 and close tube 2 and open text 2 and close text 1
edit~copy special~copy merge~ take to animation shop and paste
after current frame .
go to edit ~select all~ frame animations set to 75
view animations , if you like what you created save and your done!
Thanks for trying my tutorial!