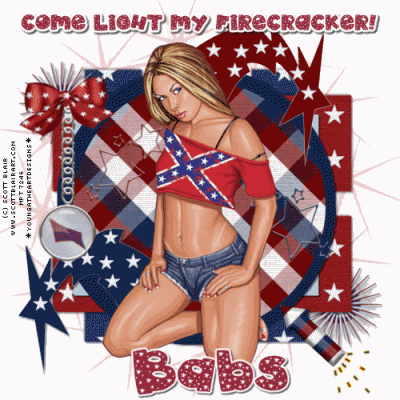 This tutorial was written by me on June 28, 2009 any similarities is purely coincidental.
You must have a working knowledge of psp and animation shop to do this tutorial.
Today im using the beautiful work of Scott Blair you must have a license to use his tubes. You can purchase his tube and get the license
Here
The FTU scrap kit was made by Babs, Thanks Sweetie! you can get this sensational kit
Here
The template I am using was made by Yvette Thanks Sweetie for this wonderful template! You can get it
Here
The mask I'm using is Vix's mask 166 Thanks Hun! you can get her cool masks
Here
The font I'm using is 2 peas 4th of July You can get it
Here
This is just a guide for a pretty easy tutorial remember any kit or tube can be substituted.
Ok Let go!
1. Open mask in psp and minimize it
2. Open the template in psp and copy and close original.
Delete the copy write layer.
Go to Image and resize the canvas layer to 700x700
Flood fill this layer white.
3. Select the papers from the kit you will be wishing to use in the templates and copy and close the originals and resize the papers to 400x400.
4. Starting on layer 1 (circle layer) duplicate this layer. On the duplicate layer select it in the layer pallet~ select all~ float ~defloat~
copy paper of choice and add as a new layer~invert~ hit delete on keyboard ~ select none.
5 . select the original duplicated layer and resize it to 110 % and repeat step 3. After adding new paper you can now delete both the template circle layers.
6. Repeat step 3 on the other 3 layers and once you have new papers added you can delete the original template layers.
Add a drop shadow of choice to the papers.
7. Add your elements ~ resize to your liking and place them where desired or see my tag for placement. Add drop shadows of choice.
7. Add your main tube of choice .
8. Click on canvas layer ~ add a new raster layer~ copy and paste a new paper or flood fill
with a color of choice~ go to layers ~ new mask layer~ from image~select Vix mask 166~ check the source luminance and click ok~ merge this group on one layer.Lower the opacity to 40 %
If you do not plan on animating this tag , resize the tag (all layers) to 500x500
Add copyright , Name and whatever text you want ~ merge all layers and your done.
Animation
If you want the firecracker animation on your tag make sure the lady tube is on top
of all the layers and the firecracker is right under her. Place the firecracker in the right hand corner. Go to edit~ copy special~ copy merge and take to animation shop and place as a new layer. Back to psp ~ Move the firecracker a tad and repeat ~ keep repeating until your firecracker is completely gone, I had 11 frames in all. It just depends on how you want yours to look.
View your animation and set your frame properties to whatever you wish~ I set mine to 20~If you like what you have created save as a gif and your done.
Thanks for trying my Tutorial!
Huggies
Sher