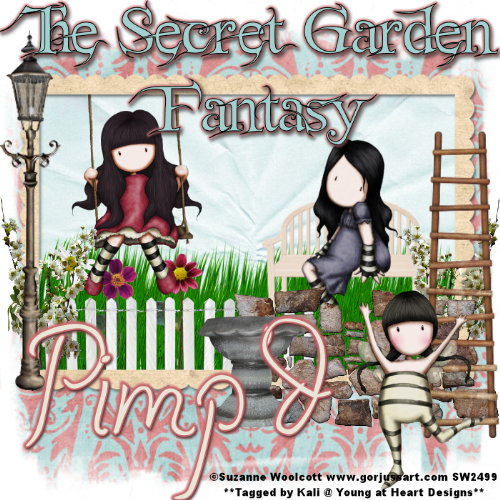 To do this tutorial you must have some knowledge of PSP.
This Tag was made using PSPX2. This tutorial is also copyrighted by Young at Heart Designs.
Im using the beautiful work of Suzanne Woolcott. If you wish to use her work you must have a license to use her work before using her tubes.
To purchase her tubes and receive a license go to
HERE
.
The adorbale kit I used is "Secret Garden" by Pimp'd Designz and it can be found
HERE
.
Supplies I used:
Mask #3 by Weescotsleass Creations can be found
HERE
.
Font: MA Simple Pleasure
Wordart & Grass:
HERE
Plug-in: Eye Candy 4000-> Gradient Glow
I used shadow settings V3,H2, O50, B5, Color Black on ALL elements, layers, text and the tube except for the mask layer.
I also sharpened every element and tube I had to resize to get the quality like the original size.
Ok lets get going!!
1
Open a new canvas 700x700
2
Open, copy and paste as new layer your choice of paper.
I used pp09
3
Open mask and minimize it.
4
Make sure you are on your new paper layer.
5
Go to Layers->New Layer Mask->From Image
6
Click on Source Window Drop Down and select WSL_Mask3
7
Make sure source luminace is selected and hit okay.
8
Right click on the mask layer and select Merge->Merge Group
9
Open your tube(s) of choice, copy and paste as new layer. Resize to desired size.
10
Open, copy and paste supplied wordart and grass elements.
11
Open, copy and paste as new layers any elements you desire.
I used: bench
bird-bath
fence
ladder
frame-03
ladder
lamp-post
stone-wall
Place the elements & tube where desired.
Also used paper: pp01 as a background to the frame.
12
Choose desired font and type out your desired text.
I used gradient glow on basic settings: glow width 3 & color of choice on both wordart and name.
I used colors for name: Foreground: #c96c6f
Background: #e9e6d7
13
Add Copyrights
14
Merge all layers and resize all layers to 500x500 and save.
ALL DONE!!
I hope you enjoyed my tutorial.
I would love to see your results so I can save them to my slideshow on the site.