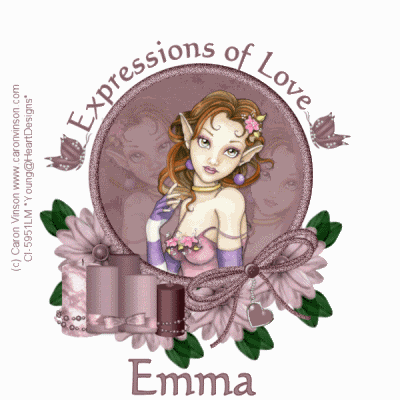 This Tag was made using Pspx2 and Animation Shop

Im using the Beautiful work of Caron Vinson. If you wish to use her work you must purchase her tubes and get her licenses from
HERE
.
The Beautiful scrap kit I used is called Tickle me Pink and it can be found
HERE
.
Ok lets get going!!

Open a new canvas 800x800

Add a new raster layer and flood fill white

Open frame 1 from the scrap kit copy & paste as a new layer.

Using the magic wand click just inside the frame to get the ants going round

then open paper 2 copy and paste it as a new layer

Go to Selections, modify expand by 2 then go back to selections ,

click invert ,and then hit delete on keyboard

And select none.

Move the paper under the frame.
Using your magic wand again click just inside the frame layer to get those measly ants again,
Open you tube of choice
Copy and paste as a new layer
Position her where you want. go to selections , invert and then hit delete on your keyboard.
Move her below the frame, she is the main tube.
Duplicate tube layer 2 times.
On the 2 copies position them where you want, mirror one
if you choose, then grab the eraser tool and erase any thing
sticking out over the edge of frame,
and lower the opacity to 20% on both
Open the elements, and copy , paste, re- size and position them where desired.
Text on curve.
Using preset shape select elipse shape and draw out a circle using just the foreground in your material pallet
Make sure its a color not used in the tag.
It need to be slightly bigger than you frame so none of it shows.
Select this layer
add a new raster layer
On this layer is where you add text. it will automatically add a vector layer
Using text tool click on outer edge of the circle till u see a curved A
Choose your desired font, I used Calligraph421BT,
and type out your desired text, it should be going around the circle.
Position the text in the box by moving the cursor before or after the text,
and click on the space bar as many times as you need , watch the text move around the circle. and then once your text is where you want it to be Click Apply.
convert this layer to a raster layer.
Delete the extra raster layer that has nothing on it and the circle vector layer.
Add your desired drop shadows to all the elements , tubes or text.
re size your tag to 500x500
Add copyrights
Your Desired Name
Merge all Layers
Save and your done.

If you Love Animated tags
before you Merge and save
click on the frame layer and go to adjust, add noise
circle gaussion
And check monochrome
Noise 40%
Then go to edit, copy special copy merge
go to animation shop and paste as a new animation

Back to psp undo and redo noise this time use 50%
repeat process back to AS Paste after current frame
Back to psp undo noise redo noise 60%
repeat back to AS copy after current frame
You should have 3 frames
View animation and if you like what you see
Save as gif and your done.

I hope you enjoy your tag and please show me your results!
This is My first tutorial and of you have problems let me know!

Huggies
Sherry