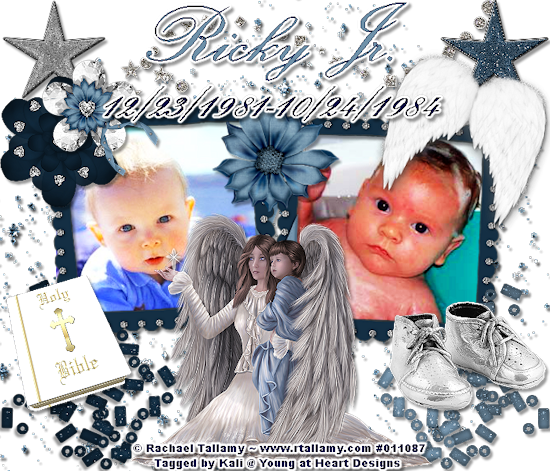 To see tag full size please click on the actual tag.
To do this tutorial you must have some knowledge of PSP. This tut is very easy and not many steps.
This tut was written and copyright by Kali at Young at Heart Designs.
I used PSPX2 to create this tut
.
Supplies:
-Incrediable Kit by Designs by Ali called "I Will Never Forget" and can be found
HERE
.
- Beautiful artwork by Rachel Tallamy and her artwork can be found
HERE
. You must have permission to use her artwork and hold a license. Please do not use without purchasing the artwork.
-Image of choice- Please do not use the ones I used- they are copyright!
-Plug-in: Eye Candy 4000>Gradient Glow
-Font: Exmouth
I have added a drop shadow to pretty much every layer and I also sharpened all elements if I resized them so they maintained the same
quality as the original one.
1 Open new canvas 700x600.
2 Open the DBA Frame 2 from the kit.
3 Resize and position where desired.
Use my example as a reference.
4 Open these elements from the kit as well:
Angel Wings 1, Bible 1, Baby Shoes, Flower 14, Gem Flower 1, Glitter Splash 2, Glitter Trail 1, Scattered Mess 1
Scattered Mess 2, Star 2, and Star 3.
5 Open any other desired elements from the kit.
6 Resize and position where desired.
7 Open your choice of photos.
8 Resize and position under the frame layer.
9 Get your eraser tool and erase any of the photos that are sticking out past the frame.
10 Open your choice of tube.
11 Resize and position where desired.
12 Get your text tool and font of choice.
13 Type out any desired wording.
14 Add a gradient glow- width 3, color white and settings set on FAT to the wording.
15 Add copyrights.
16 Resize and save as a png.
You are all done!!!
Thanks for doing my tut,
Kali