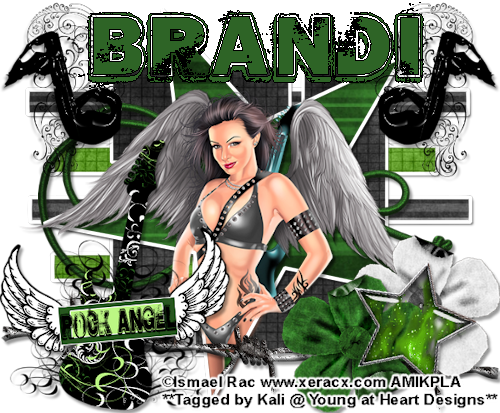 To see full size click on the example.
To do this tutorial you must have some knowledge of PSP. This tut is very easy and not many steps.
This tut was written and copyright by Kali at Young at Heart Designs.
I used PSPX2 to create this tut.
Supplies:
-Wonderful Artwork by Ismael Rac and can be found
HERE
. You must purchase and have a valid license to use his work.
Please DON'T use his artwork without permission.
-Incrediable Kit by Grunge & Glitter Scraps called "Rock Angel" and can be found
HERE
.
-Template #8 by Scrapity Scrap and can be found
HERE
.
-Font: Hard Rock
I have added a drop shadow to pretty much every layer and I also sharpened all elements if I resized them so they maintained the same
quality as the original one.
1 Open template and delete the copyright and white background layer.
2 Click on the Raster 4 layer and open your choice of paper.
3 Click back on Raster 4 and go to Selections>Select All>Float>Defloat.
4 Click on the newly added paper and go to Selections>Invert and hit delete on your keyboard.
5 Delete the original Raster 4 layer.
6 Repeat Steps #:2-5 for all included layers in the template.
7 Open your choice of tube.
8 Resize and position where desired.
Use my example for reference.
9 Open your desired elements from the kit.
10 Resize and position where desired. Use your eraser tool to erase any of the tube you do not want sticking out.
11 Get your text tool and font of choice.
12 Type out any desired wording.
13 Add copyrights.
14 Resize and save as a png.
You are all done!!!
Thanks for doing my tut,
Kali